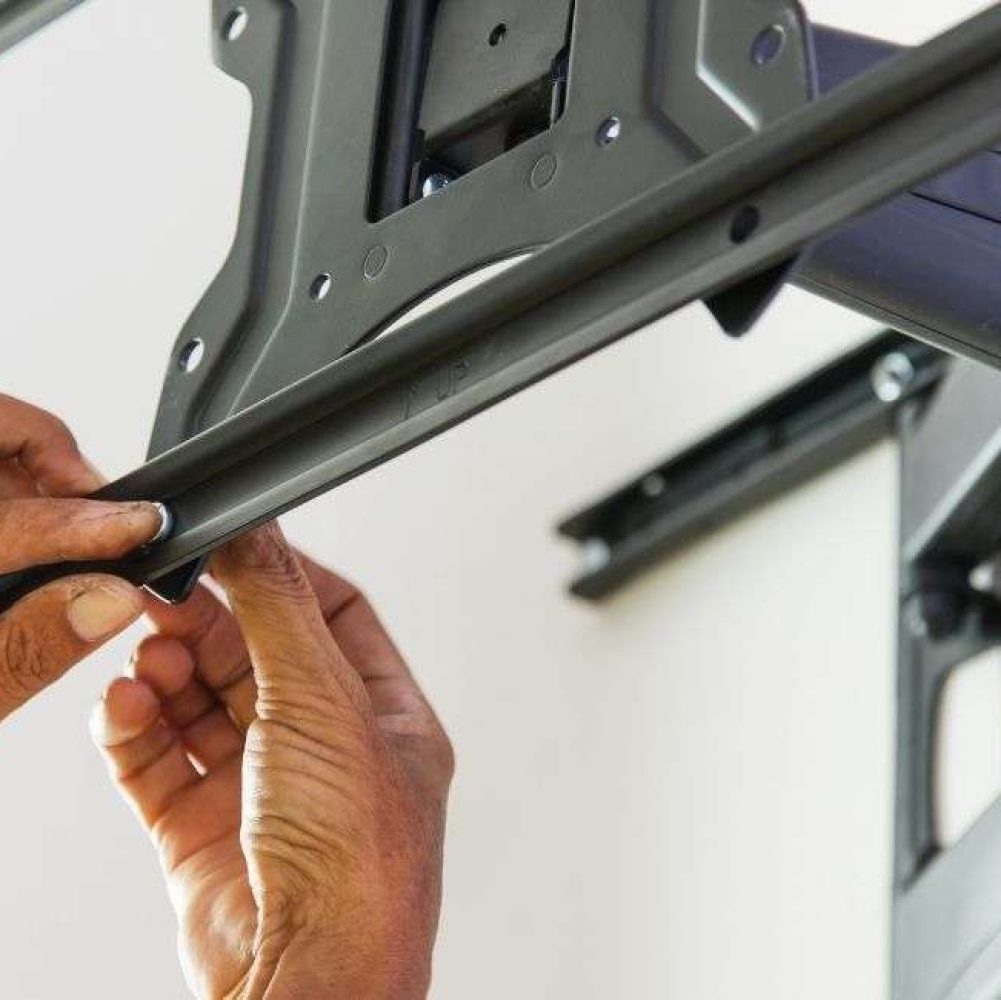 Wall mounting is an effective way to save space, design, and personalize your home. It can also be a way to safeguard your family from heavy objects falling during earthquakes. The most popular items that homeowners love mounting or fixing to the wall are TV, shelves, cabinets, hooks for their musical instruments and picture frames, and gym equipment.
TELEVISION
For the best viewing experience, you may want to mount your TV on the wall.  All flat-screen TVs now can be mounted on the wall using wall mount brackets. This bracket is normally made out of metal and has hole patterns on which you can use screws to fix it on the wall. There are three (3) main types of wall mount brackets available out there in the market: Fixed wall mount; Tilting wall mount; and Full motion mount.
FIXED WALL MOUNT
The fixed wall mount is the most basic and simple type. It is quite sturdy and holds the TV strong in place. It is also cheaper and can be installed quickly. However, it does comes with some disadvantages. The fixed wall mount does not allow screen movement. You will not be able to adjust it to your sitting or standing position. It's also more difficult to insert HDMI cables or USB drivers at the back of the TV as it's firmly fixed too close to the wall. 
TILTING WALL MOUNT
This tv mount will allow you to tilt your scene vertically or horizontally so as to slightly adjust to your sitting or standing position. It offers some flexibility in your viewing experience. It is also easier to connect HDMI cables or USB drivers at the back of the TV.
FULL MOTION MOUNT
The full motion mount is the most flexible type of TV wall mounts out there. With this, you can tilt, retract and swivel your screen in almost any direction. It's always fun to have perfect control of your viewing experience either you are on the go or just taking your sweet time on the couch.
While many homeowners can do this all by themselves, the task can be quite daunting and risky. You definitely don't want to ruin your wall or your expensive TV. Neither would you want to end up watching a TV that is not aligned. Not to mention you have to have the tools and equipment for a job that you may only need to do once. The benefit of getting a professional handyman to do it for you instead outweighs the cost.
SHELVES
Shelves are a great way of saving space and displaying your items around the house. It also helps personalize your home, reflecting your personality and taste. There are several types of shelves out there. Whatever it is, Mr. Butler is experienced in professionally fixing them to your wall.
CABINETS
Normally, the same people who fabricated the cabinets are the ones who install them. For cabinets that you may purchase from IKEA, let Mr. Butler do the mounting for you. Some clients also ask us to mount first aid cabinets on their walls. You can definitely do this too.
HOOKS FOR MUSICAL INSTRUMENTS
It's a good idea to hang your musical instruments such as your guitar on the wall. Hanging it on the wall helps keep it from being damaged by people traffic or from accidentally falling from your bed or chair. Hanging it also makes your room, clean and tidy.
HOOKS FOR PICTURE FRAMES/PAINTINGS
We love filling our houses or rooms with photos. They are wonderful remembrances of happy and meaningful moments with the people we care about. Obviously, it's the people that make a house, a home. But it sure does help bring that 'homy' feeling if you have photos you love around your house.
GYM EQUIPMENT
It is important to stay healthy especially during this pandemic. And exercise is a crucial part of staying healthy. With gyms closed due to the pandemic, you may want to set up a mini gym in your house. Some of the equipment may need to be mounted on the wall for support and reinforced strength to carry your body's weight. Mr. Butler can help you correctly install this equipment in your home.